Home
›
Granulator Screens
REPLACEMENT GRANULATOR AND SHREDDER SCREENS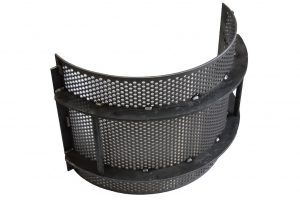 Using our combined experience perforating sheet metal with over 35 years of experience in sheet metal fabrication, we strive in producing high quality long lasting industrial screens for multiple industries. Our main Sheffield factory has the latest in high tech CNC machinery and computer aided manufacturing software that allows us to produce industrial screens in house from start to finish to the highest of tolerances. At C&S we understand that machinery down time needs to be minimal so we can work around the clock to ensure your replacement screen gets to you as soon as possible with the least possible hassle.
MATERIALS
Mild Steel
Stainless Steel
Hardox
Raex
Domex
Chrome Boron
HEAVY DUTY INDUSTRIAL SCREENS
We are able to produce heavy duty industrial screens from a range of different materials. As one of the only companies in the UK with a 50 ton Amada Turret Punch Press, we can perforate materials up to 10mm thick at a much lower cost than laser cutting, perfect for our range of industrial screen products. We also use our brand new fiber laser cutter for heavy duty materials up to 20mm thick.
WE WORK FROM SAMPLES
With over a decade of experience producing industrial screens, we have manufactured industrial screens for most brands of recycling machine manufacturer. If we come across a screen we have not previously made, we can work from your supplied dimensions or an original damaged sample to make a duplicate replacement.  
INDUSTRIAL & GRANULATOR SCREENS
Alpine
Blackfriars
Buhler
Champion
Cumberland
Dreher
Eldan
MTB
Polymer
Rapid
Tria
Untha
Vecoplan
Weima
Zerma
The above is a small sample of the industrial screens we have previously manufactured, for more information on the brands listed above or other screens, please call us on 0114 234 7467 or email info@csfabs.co.uk for a free quotation.